Registrar's Office
The Registrar's Office will be closed for in-person service.  Contact us by email at Registrar@vsu.edu or call 804-524-5275.
To schedule a virtual appointment click here:
https://outlook.office365.com/owa/calendar/VSURegistrarOffice@VAState365.onmicrosoft.com/bookings/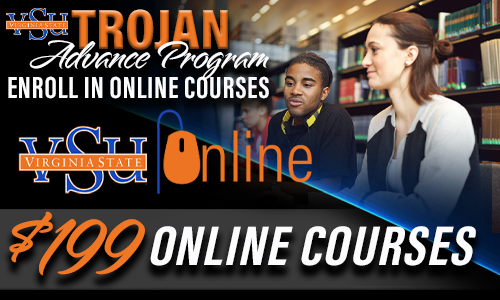 Degree seeking students may enroll in a maximum of 18 credit hours during the Fall and Spring semesters. For Summer and Winter semesters, students may enroll in a maximum of two courses (up to 8 credit hours) per summer session. Non-degree seeking/non-matriculating students may not exceed a total of 11 credit hours at any given point in time. Taking any additional courses beyond 11 credit hours requires admission into a VSU degree program.
Registration

Virginia State University now offers MULTIPLE-SEMESTER REGISTRATION. This new registration process allows students the opportunity to register for a full academic year (Fall 2022, Winter 2022, Spring 2023 and Summer 2023) at one time. MULTIPLE- SEMESTER REGISTRATION BEGINS MARCH 28, 2022. For more information, Click here .
Fall 2022, Winter, 2022, Spring 2023 and Summer 2023 is currently viewable Click Here.
Click Here PDF download for instructions to register for courses.


Click Here PDF download for instructions to review your existing schedule. The delivery method is denoted under "campus" on your schedule.

---
Advisement:


Freshmen - ACE Academic advisors will be available via telephone Monday through Friday from 9:00am-4:00pm (804-524-3095).


All Other Students - Please contact your faculty adviser for appointments.


---
---
Payments: 
The Student Accounts Office is responsible for payments. Please 
click here for online payments
---
Students, Faculty and/or Advisors needing assistance with Banner they should contact the OIT Help Desk at 804-524-5210.