Message from the President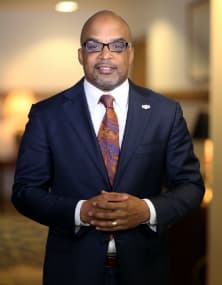 It is my pleasure to present to you, Preeminence with Purpose, VSU's 2020-2025 Strategic Plan.  The Strategic Plan is a document that provides direction on how VSU plans to operate in the next five years.  The Plan is intentional and strategic and provides guidance that will (1) build upon our innumerable successes of preparing students to become leaders in a global society, (2) solve emerging world issues through research, (3) build on the profound impact of our Land-Grant Mission, (4) continue academic excellence, and (5) ensure the holistic transformative experience of our students.
The challenges of being an institution of higher education have never been greater.  The declines in state and federal funding have caused increases in tuition which threaten a student's access and affordability to attend Virginia State University (VSU) and limits the crucial investments needed to grow.  Despite these financial challenges, VSU has one of the lowest tuitions in the Commonwealth of Virginia.  However, as an Opportunity University providing a quality education and transformative experience to students from a wide range of cultural and socioeconomic backgrounds, it is critical that VSU (1) encourage more philanthropic giving from alumni and corporations to increase endowments needed for scholarships,  (2) continue investing in new degree offerings to meet employer demands for talent, (3) work with  the Virginia General Assembly on making college more affordable,  (4) obtain grant revenue for civic engagement that addresses community issues, and (5) improve enrollment management/marketing.
The challenges listed above come at a defining time in our history and demand an urgent and comprehensive response. Therefore, the Strategic Plan is about sustained excellence (Preeminence with Purpose) and outlines the next chapter in our continued growth. The Plan focuses on the following six areas:  1. Increase Student Opportunity and Access to Higher Education; 2. Sustain Academic Excellence; 3. Transform and Support a Holistic Experience for Students; 4. Enhance the Land Grant Mission of the University; 5. Define the VSU Brand; and 6. Increase and Diversify Financial Resources/Operational Effectiveness. 
This bold and forward-thinking strategic plan, is the culmination of our principles of shared governance.  The planning and structure of this plan considered the voices and visions of our alumni, faculty, local community, staff, students, and various other internal and external stakeholders.  Active participation and transparency were ensured through alumni forums, campus meetings, community town halls, and surveys with hundreds of our stakeholders sharing their vision.  This exchange of ideas led our strategic planning committee to build this plan; which is inclusive, equitable, and diverse; yet ambitious and forward thinking.  While the Strategic Plan has been developed and implementation planning is underway, we understand the need to be nimble and are prepared to adjust to changing conditions.  Further, VSU will continue an open dialogue with our valued stakeholders on our progress in implementing and/or revising the Strategic Plan as needed, as we move forward.
In closing, I wish to thank all who helped to set the strategic vision for our beloved VSU.  Our successes over the past 137 years would not have been possible without the confidence and support of our dedicated village of educational enthusiasts. 
Thank you to each of you for your continued dedication and support of our Virginia State University. Hail State.
Makola M. Abdullah, President
Virginia State University