VSU Student Returns To The University To Graduate Nearly 30 Years After Beginning His College Career
Virginia State University to confer nearly 600 degrees during the Spring 2023 Commencement ceremony .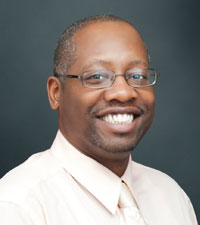 On Saturday, May 13th, Virginia State University will award degrees to nearly 600 students—among those students is Garry Smalley whose story is a testimony of the Greater at VSU.
At the age of 46, Smalley returned to VSU to finish what he started. The Brooklyn native was a student between 1994 and 1998. He received a job offer in his senior year and left school to begin working. Now, nearly 25 years after dropping out, Mr. Smalley has a thriving career in insurance and real estate but came back to VSU to finish earning his degree.
"I just think for me it's about the process of completion. Did I necessarily need my degree? No. Do I want to finish the things that I've started? Yes," said Smalley. "I feel like that was important to me. It was on my vision board for this year, and I am proud of myself for executing the plan."
Earlier this year, he began conversations with VSU administrators and discovered that he needed only seven credits to complete his degree requirements. He returned to the classroom this past semester with a new attitude and excitement about his courses.
"When I was in school as a late teen, I was taking my classes to pass. As an adult, it was different," said Smalley. "The African American Literature class really resonated with me. It made me think differently. The class really stuck with me and changed my views."
"At Virginia State University, we strive to offer increased options for lifelong learners and non-traditional students," said Gwen Williams Dandridge, Assistant Vice President of Communications. "Mr. Smalley is not returning to Virginia State University because he has to, but because he has a thirst for knowledge and a desire to finish what he started. We commend that Trojan spirit of achievement."
Smalley will graduate with a Bachelor of Science in Individualized Studies on Saturday, May 13, 2023, in the VSU Multipurpose Center. The ceremony will begin at 8:30 AM and be live-streamed on the VSU website and broadcast live on WVST radio.
Media Partners, Commencement interviews can be scheduled for 8:30-9:00 Friday morning prior to rehearsal. Please contact me directly to schedule an interview. Gwen Williams Dandridge, AVP of Communications 804-539-1068