VSU 2022 Graduate and Richmond Native Who Battled Homelessness and Abuse Now Headed For Ivy League Degree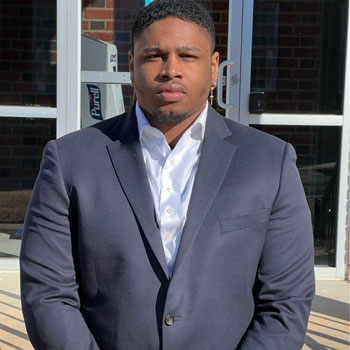 Virginia State University will confer more than 500 degrees at 2022 Spring Commencement.

26-year-old Kyle Jacobs is one of 527 graduates who will receive a degree from VSU on Saturday, May 14, 2022. Jacobs, a graduate of the VSU College of Agriculture and a member of the Honors College, says the journey to his degree included obstacles such as homelessness, foster care, and abuse. This fall, he will pursue a Master's degree in Sustainability Management from Columbia University in New York City on a full scholarship. He will attend as a part the school's Professional Studies HBCU Fellows Program.
Jacobs says throughout his youth, he moved around, was in and out of the foster care, the juvenile detention system, and several abusive environments until he graduated high school. After facing a difficult childhood, the Richmond native began his collegiate journey at Virginia State University in 2015. 
In 2016, after attending Virginia State University for a year, Jacobs transferred to a larger university where he says he lived in an abandoned house for more than a year because he was unable to obtain student housing. In 2020, he applied for readmission to VSU.
"Kyle Jacobs' story really is the personification of our mantra 'Greater Happens Here,'" said VSU President, Dr. Makola M. Abdullah. "Stories like his are a further demonstration of the importance of our position as an access and opportunity university. We are proud of Kyle and all of our graduates who have been transformed by the power of a Virginia State University education."
Jacobs has completed internships and fellowships with companies like Google, Capital One, Microsoft, and IBM. He has won more than $50,000 in scholarships and business competitions, many of which have followed from opportunities provided by the Thurgood Marshall College Fund. He is also a member of national and international honor societies, has studied Business Ethics and Leadership in Brazil, and is currently a scholar in the Introduction to Diversity in Doctoral Education Scholarship program at the University of Pennsylvania.
The Spring 2022 VSU Commencement ceremony will begin at 9:00AM on Saturday, May 14, 2022, in the VSU Multipurpose Center. VSU alumna, therapist, entrepreneur, and conference speaker, Dr. Khaalida Forbes will deliver the keynote address. Tickets and masks are required for attendance.