VSU Enjoys First Fully In-Person Intake Season of the Divine Nine Since 2019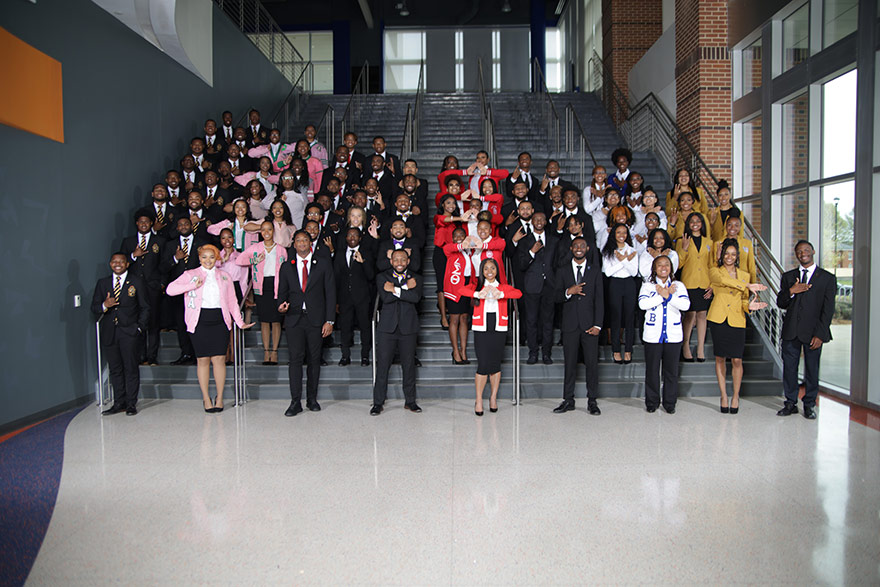 Nearly 150 VSU students initiated in successful 2021-2022 Greek letter intake process  
The VSU National Pan-Hellenic Council (NPHC) organizations initiated nearly 150 new members into their Divine Nine fraternities and sororities for the 2021-2022 academic school year. This is first fully in-person intake season since 2019, before the COVID-19 pandemic began. All nine chapters completed a safe and successful intake process.
The Divine Nine (D9) organizations at Virginia State University play a vital role in retention and recruitment at VSU. After surveying five incoming freshmen classes over the course of five years, research indicates that 90 percent of students list Greek Life as a deciding factor for college selection.
The Divine Nine organizations successfully host more than 100 engaging events per semester to include in-person, virtual, and hybrid platforms with strategies to reach all students on the VSU campus. These events are to provide engaging activities, to widen the community service impact, to combat mental health concerns, to increase financial literacy, to promote health awareness, and to support COVID-19 safety protocols—all while students continue their daily exemplary display of brotherhood, sisterhood, scholarship, and community leadership. 
"We appreciate the dedication of Mr. Casey Perry, VSU Associate Director of Student Life and Engagement and his staff, for their diligence in ensuring that this Greek intake process personified our mantra that Greater Happens Here," says Dr. Donald E. Palm, VSU Executive Vice President and Provost. "The Divine Nine play a major role in our HBCU history and the vibrancy of our campus. We are delighted that they are fully represented at VSU this year."
VSU faculty and staff play a vital role in the success of these organizations by serving as advisors. All of the advisors are initiated members of the nine fraternities and sororities. This allows them to bridge the gap between the past and present generations. These advisors also assist in continuing the legacy of the great principles these fraternities and sororities were built upon.
The Divine Nine at Virginia State University include the Beta Gamma Chapter of Alpha Phi Alpha Fraternity, Incorporated; the Alpha Epsilon Chapter of Alpha Kappa Alpha Sorority, Incorporated; the Alpha Phi Chapter of Kappa Alpha Psi Fraternity, Incorporated; the Nu Psi Chapter of Omega Psi Phi Fraternity, Incorporated; the Alpha Eta Chapter of Delta Sigma Theta Sorority, Incorporated; the Alpha Alpha Alpha Chapter of Phi Beta Sigma Fraternity, Incorporated; the Phi Chapter of Zeta Phi Beta Sorority, Incorporated; the Alpha Zeta Chapter of Sigma Gamma Rho Sorority, Incorporated; the Eta Chapter of Iota Phi Theta Fraternity, Incorporated.  
Check out the VSU Greek Life Newsletter.