VSU Spring 2022 Commencement Speaker, Dr. Khaalida Forbes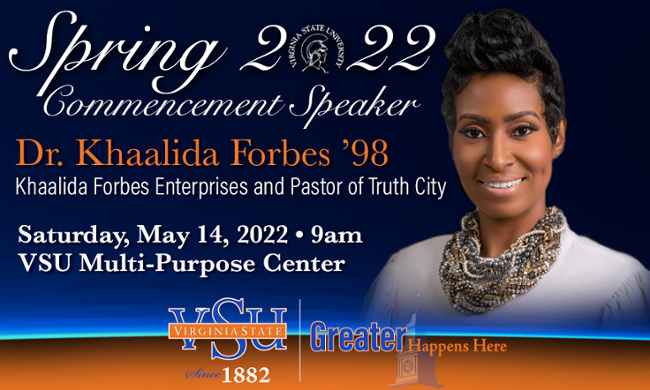 VSU continues to focus on mental health with licensed clinical therapist and alumna Dr. Khaalida Forbes to deliver address to graduates. 
Virginia State University is pleased to announce that Dr. Khaalida Forbes, therapist, entrepreneur, conference speaker, VSU alumna, and mental health advocate will serve as the Spring 2022 VSU Commencement speaker.   
Dr. Forbes, known as "The Change Architect", is a multi-state licensed clinical therapist and is the Founder and Chief Executive Officer of Khaalida Forbes Enterprises. Her company seeks to offer opportunities for mental, emotional, relational, and spiritual transformation. Dr. Forbes has worked with adults and adolescents for 25 years, providing treatment for various forms of emotional disturbances and trauma.   
Dr. Khaalida Forbes' journey to providing transformation began with her foundation at Virginia State University, where she received her Bachelor of Arts degree in Sociology. In addition, she has a master's degree in Clinical Social Work, a Master of Divinity degree from Howard University, and a Doctor of Ministry degree in Prophetic Preaching for the 21st Century.   
"At Virginia State University, we have been very intentional about ensuring our students' mental health," said VSU President, Dr. Makola M. Abdullah. "This academic year, we hosted a mental health awareness walk, began offering Trojan Wellness Days to focus on mental health, and invested in several mental health initiatives. As further evidence of our commitment, we are excited to welcome Dr. Forbes home to Virginia State University to deliver an inspirational and powerful address to our Trojans."   
Virginia State University will hold its Spring 2022 Commencement Ceremony inside the VSU Multipurpose Center on May 14, 2022, at 9:00AM. Tickets and masks are required for attendance.   
The ceremony will also be livestreamed on the VSU website and broadcast live on WVST radio.