VSU To Return to Fully In-Person Campus Experience for Fall 2021
Virginia State University is excited to welcome students, faculty and staff back to our vibrant campus for our fully in person living, learning and working experience in fall 2021. We have spent several months working to provide a safe and welcoming campus experience filled with the energy and vibrancy that your presence brings to the VSU atmosphere.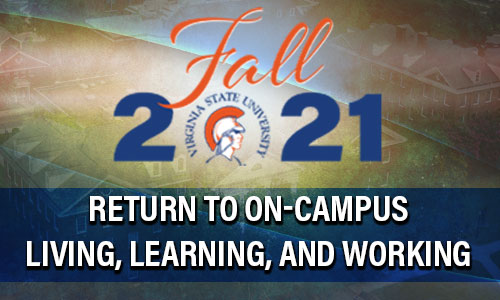 Your safety is a priority and remains at the forefront of our planning. We will continue to consider guidelines set forth by the CDC to help stop the spread of COVID-19. 
Masks remain a required part of our on-campus experience.
PPE will be available upon your return to campus.
COVID entrance testing for all students is required.
Non-vaccinated students are required to have COVID-19 tests weekly.  
We have a quarantine/isolation facility on campus.
Residence halls will operate at normal capacity.
Student move-in begins for our general campus population on August 13, 2021.
Classes will be delivered primarily in-person beginning August 23, 2021.
We expect to offer on-campus student-centered academic, athletic, and social events while considering federal, state, and local safety guidelines.
We strongly encourage all VSU faculty, staff, and students to get the COVID-19 vaccination prior to the start of the semester. Vaccinations are safe, effective, and free. More information is available on the CDC website. In addition:
VSU is working to make vaccinations available on campus in the fall semester.
VaccineFinder is a helpful resource to find vaccination locations near you.
We encourage you to speak with your primary care physician if you have additional questions or concerns about any of the COVID-19 vaccines.
To begin the transition back to the fully in-person campus experience and to prepare to welcome our Trojans back "Home on the Hill", administrators, staff, and 12-month faculty will return to work on-campus beginning July 1, 2021, based upon individual responsibilities. All additional COVID-related temporary telework options will cease and all employees will resume normal on-campus work hours no later than July 12, 2021.  Faculty and staff are strongly encouraged to be tested for COVID-19 prior to returning to campus. No-cost testing is available on campus in Whiting Hall.
We will keep you updated with new information via email, website, and social media.  As directives and public health guidance emerge, we will adapt as necessary.  In addition, we have planned town hall meetings to answer questions from our students, faculty/staff, and parents.  Dates and times will be forthcoming.
We expect to enjoy the full experience of a healthy and safe campus environment in the upcoming semester. We are excited to welcome our Trojans back to the rich VSU campus experience in fall 2021. We look forward to seeing each of you soon at your "Home on the Hill".