VSU Mourns Passing of VSU Foundation Board Member and Alumna LTC (Ret.) Iris Burton Bulls
Virginia State University (VSU) mourns the loss of VSU Foundation Board Member, donor, and loyal daughter of the University, LTC. (Ret.) Iris Burton Bulls. Mrs. Bulls was a member of the class of 1978 with over 42 years of dedicated federal service, all primarily in the defense community.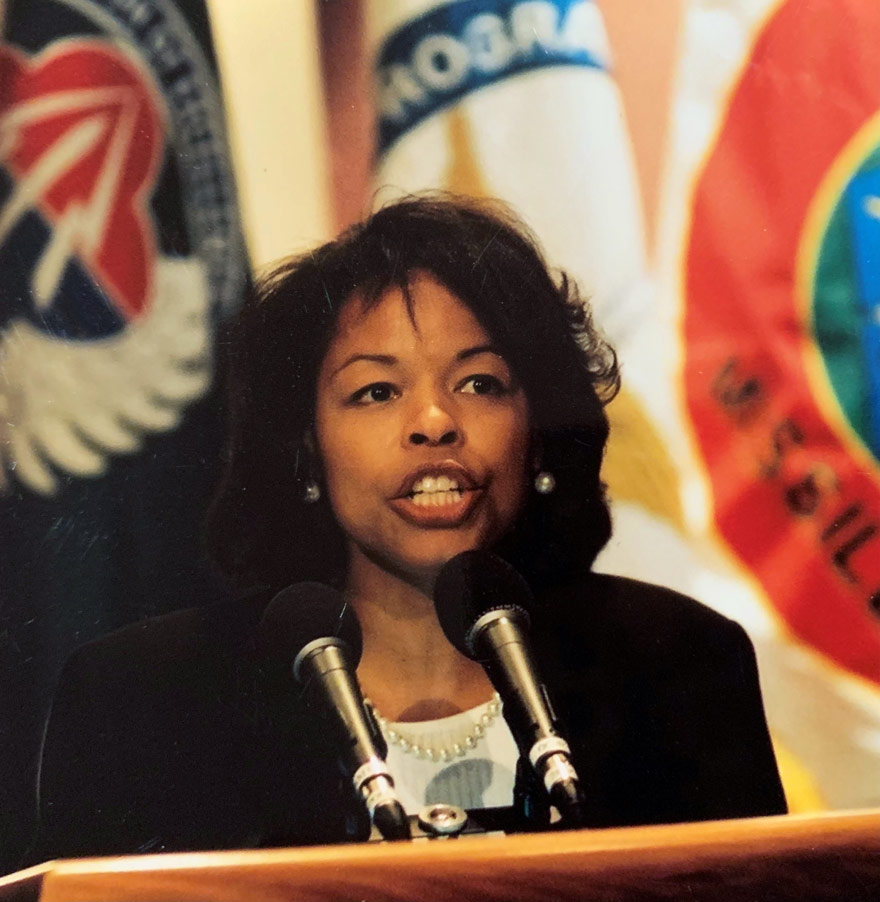 Mr. and Mrs. Bulls have demonstrated tremendous philanthropic support for VSU and various initiatives and programs to include the Virginia State University Athletic Program and the establishment of two endowed scholarships. Mrs. Bulls became a member of the VSU Foundation Board in fall 2020.
Mrs. Bulls earned her Bachelor of Arts degree, cum laude, from VSU and was commissioned as a Second Lieutenant in the U.S. Army Ordnance Corps after graduating from Virginia State.  She earned a master's degree in education administration from Tufts University in Medford, MA. She served in positions of increasing responsibility throughout her Army career, beginning as a Training Officer for a basic training company at Fort Dix, NJ. Mrs. Bulls later transferred branches to the Adjutant General's Corps, where she subsequently was assigned as the Chief, Personnel Management, 8th Army Personnel Command in Seoul, South Korea.
She served as an Admissions Officer at the United States Military Academy at West Point from 1984 until 1988. She was responsible for the admission of over 1,000 cadets into West Point from across the Nation. After her Army active duty career ended in 1989, Mrs. Bulls continued to serve the Nation in several roles including Chief, Military Personnel at U.S. Army Laboratory Command in Adelphi, MD, overseeing the Department of Defense policy for military adoption, family care plans and spousal employment, and in 1999, was appointed by President Clinton to be the Principal Deputy Assistant Secretary of the Army for Manpower and Reserve Affairs, overseeing policy for one million Soldiers, 270,000 civilians and a budget of $40 billion. She served as a spokesperson for the Army and gave speeches around the world on personnel-related issues.
Mrs. Bulls retired as a Lieutenant Colonel from the Army Reserves in 2006. Upon retirement from federal service, the Secretary of Defense awarded Mrs. Bulls the Office of The Secretary of Defense Medal for Exceptional Civilian Service, the highest-level career medal award.
She served as the Chair of the Defense Language Action Board for over five years, a member of the Defense Language Steering Committee, and the National Security Education Board. Mrs. Bulls was a member of Delta Sigma Theta Sorority, Inc. for over 40 years. She was also a member of the Northern Virginia Chapter of the Virginia State University Alumni Association.
Virginia State University extends their thoughts and sympathy to her husband, Mr. Herman Bulls, children, Herman, Jr. (Jennifer), Nathaniel and Jonathan (Brittney), grandchildren (Connor, Quinn and Kennedy) and the entire Bulls family. The University recognizes the life, work, and commitment of Mrs. Iris Burton Bulls.