VSU to Offer Free Tuition for Qualified Area Students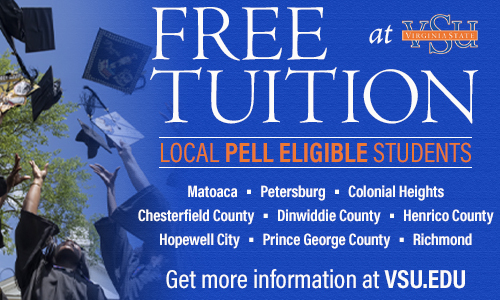 New Initiative Could Be a First in the Commonwealth of Virginia.
There are opportunities to attend VSU tuition free through the recently announced  VSU Virginia College Affordability Network (VCAN).
150 qualified students have already taken advantage of the VCAN opportunity. You can too.
To qualify, students must be Pell grant eligible, meet the University admission requirements, and live within a 25-mile radius of the University. This initiative provides qualified students, who have limited  financial resources, the option to attend a four year university directly out of high school.
The VSU VCAN initiative builds upon the mission of the National College Access Network; which is to build, strengthen, and empower communities committed to college access and success, especially for those who are underrepresented in postsecondary education.
To qualify a student must:
Complete the VSU online application and submit high school transcripts
Have a completed FAFSA on file with VSU
Be a full-time Pell eligible student (based on FAFSA data)
Live within 25 miles of campus
Questions should be directed to the Office of Admissions by calling 804-524-5902.