150 Local High School Students Receive Offer of Free Tuition at Virginia State University
The VSU Virginia College Affordability Network (VCAN) Initiative Offers Pell eligible local students free tuition
Today, Virginia State University (VSU) announced that 150 local high school students have been accepted into VSU at no cost for TUITION as part of the new Virginia College Affordability Network (VCAN).  The recently announced VCAN initiative provides access for an estimated 300 students who live near the VSU campus to attend the University at no cost for tuition. There are an addition 150 scholarships still available for high school seniors who meet the criteria. The VCAN initiative seeks to address the regional needs relating to higher education access and completion. 
To qualify, students must be Pell Grant eligible, meet the University admission requirements, and live within the 25 mile proximity of the VSU campus which includes: Chesterfield County, Colonial Heights, Dinwiddie County, Henrico County, Hopewell City, Petersburg City, Prince George County and Richmond City. Priority is given to students from Matoaca, Petersburg, and Colonial Heights high schools.  This initiative provides qualified students, who have limited financial resources, the option to attend a four year university directly out of high school.
"At Virginia State University, we continue to embrace our role as Virginia's Opportunity University," says VSU President, Makola M. Abdullah. "This initiative directly aligns with our Strategic Plan as it allows us to directly impact students who dream of access to a quality four-year university, yet lack financial resources to attend. We are excited to have the ability to offer another 150 scholarships and are encouraging local students to apply as soon as possible." 
The VSU VCAN initiative builds upon the mission of the National College Access Network; which is to build, strengthen, and empower communities committed to college access and success, especially for those who are underrepresented in postsecondary education.
To qualify/apply students must: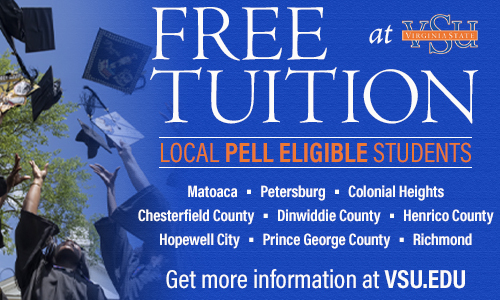 Complete the free VSU online application
Have a completed FAFSA on file with VSU
Be a full-time Pell eligible student (based on FAFSA data)
Live within 25 miles of campus
Questions should be directed to the Office of Admissions by calling 804-524-5902.