Virginia State University to Receive Portion of $1 Million Donation
VSU and other Virginia HBCUs to receive yearly donations from gaming and technology companies
Virginia State University has received a portion of a $1 million donation and a commitment for a yearly gift from an online gaming company and its equity partner. VSU is one of five HBCUs presented with the first of an expected annual investment by Golden Nugget Online Gaming (GNOG) and the Virginia Sports and Technology Group (VSTG).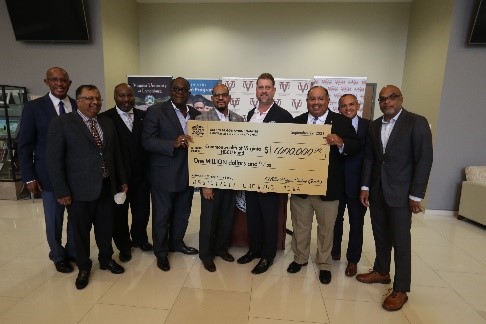 "Golden Nugget Online Gaming and Virginia Sports and Technology Group are doing the dedicated work that HBCUs nationwide need to see. Investing in Virginia State University shows an invaluable commitment to the transformative nature of our opportunity and access university," said VSU President Dr. Makola M. Abdullah. "This investment will be used to make a greater difference in the lives of our VSU students for years to come. We are grateful for these groups and others who recognize that Greater Happens Here."  
VSU will share the $1 million donation with Virginia's four other HBCUs receiving $200,000 this year. Golden Nugget Online Gaming has also agreed to share four percent of net gaming revenue with the Virginia HBCUs each year.  
"This is another step toward meeting our major fundraising goals for Virginia State University to ensure that Greater Happens Here," said Tonya Hall, VSU Vice President for External Relations. "We need more companies in Virginia and across the country to make these types of investments in HBCUs to ensure that students have greater access to opportunity universities like VSU." 
The other HBCUs receiving the funds include Norfolk State University, Hampton University, Virginia Union University, and the University of Lynchburg. 
"Golden Nugget strongly believes that investment in education of all those who seek it is a key contributing factor toward individual and families generating lifelong financial stability, increased opportunities for upward mobility, and the creation of more diverse and sustainable communities. It is with that philosophy that we are excited to expand our business into the state of Virginia and we aim for this to be a very long-term and prosperous endeavor," said Kevin Vonasek, Vice President of GNOG Corporate Development. "But more importantly, as we commit to growing our own business in your community, we are also committed to helping your community grow and prosper as we do."