72-Year Old is Inaugural Graduate of VSU First Fully Online Program
School Nurse from Amelia County to receive Bachelor of Science in Nursing Degree during Saturday's VSU Commencement.
Virginia State University is pleased to celebrate the inaugural graduate of the University's first fully online program. VSU will award 72-year-old Sonia Jackson a Bachelor of Science in Nursing (BSN) degree on Saturday, December 18, 2021.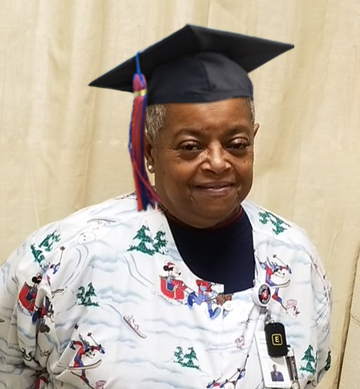 In 2019, Virginia State University received approval from the State Council of Higher Education Virginia (SCHEV) to offer a new Bachelor of Science in Nursing completion program. The part-time online program is designed for working Registered Nurses (RNs) who currently have a hospital diploma or an Associate Degree in Nursing and would like to achieve the higher degree of a Bachelor of Science in Nursing.
Jackson received her diploma in nursing from Petersburg General Hospital, retired twice, and currently works as a school nurse in Amelia County.   
"Nursing is a lifelong learning experience, so this has always been a goal of mine. My children are all college graduates, so I decided it's my turn," said VSU student Sonia Jackson. "My husband is an alumnus of Virginia State University, and my grandmother went to Virginia State, so I know the value of a VSU education." 
"Ms. Jackson has undoubtedly shown a commitment and passion for lifelong learning with her pursuit of this degree and is truly the embodiment of Greater Happens Here." said Dr. Donald E. Palm, Provost and Senior Vice President for Academic and Student Affairs. "Students like Ms. Jackson are a demonstration of the importance of VSU as an access and opportunity university. She is already a trailblazer, and we are proud that she will soon be a Trojan alumna." 
The fully online program was created to focus on rural nursing and to respond to the global demand for more highly credentialed nurses and the need for healthcare professionals who can provide culturally sensitive patient-centered care in a variety of healthcare practices including inpatient, outpatient, and community settings. 
VSU will award 311 undergraduate and graduate degrees during its commencement ceremony on Saturday, December 18, 2021, at 10:00am in the VSU Multipurpose Center. The ceremony, recognizing graduates from the 2021 fall and summer classes, is the first indoor, in-person ceremony since 2019 and the beginning of the COVID-19 pandemic.