Grammy Award Winning Record Executive and Film Producer Joins VSU Staff
Amir Windom will work with Virginia State University students as part of the Provost's Lecture Series.
Virginia State University has announced that Grammy Award Winning Record Executive, Film & TV Music Supervisor and Film Producer, Mr. Amir Windom will join the VSU staff for the 2021-22 academic year. Windom will be on campus as part of the Provost's Lecture Series as Executive Speaker in Residence.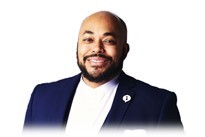 The Atlanta native has helped launch the careers of some of the most influential stars in the music business including Bruno Mars, Kanye West, Pharrell Williams, Lupe Fiasco, Reed Shannon, and Trey Songz to name a few. Through his storied career, Mr. Windom's artistic contributions inspired a multitude of GRAMMY award winning artists, albums, songs, and film soundtracks resulting in millions of best-selling records, several industry awards, and numerous GRAMMYs. Over the last few years, Mr. Windom has lent his marketing genius to help develop global marketing campaigns for major brands such as The Coca- Cola Company, Kodak and ESPN. 
As an Executive Speaker in Residence, Mr. Windom will consult with educators and work with students in three areas of study, including the Reginald F. Lewis College of Business and the College of Humanities and Social Sciences, which contains the Mass Communications and Music departments. 
"We are pleased to have Mr. Windom bring his wealth of knowledge and many talents to Virginia State University" said Dr. Kawachi A. Clemons, Vice Provost of Academics, Innovation & Strategic Initiatives. "With his HBCU roots and his innovative work--Mr. Windom undoubtedly will be an asset. His resume and experiences truly speak for themselves and can only add to the already great work being done in our Trojan community." 
Windom has been honored with the prestigious "40/40" award by his alma mater, Florida A&M University, given to alumni under the age of 40 who've made outstanding career strides and achievements. He was penned as a "Young Leader to Watch" by the Atlanta Journal-Constitution and named one of the "Top 35 Millennials" in the country by the Next Big Thing Movement.   
Mr. Windom's tenure as Executive Speaker in Residence at VSU began in September and will run through May 2022.