Virginia State University to Use Funds from Anonymous Donor to Match Giving During Six Week Giving Challenge
Unprecedented Giving Challenge designed to multiply University fundraising.
Match Gift Challenge
Virginia State University, VA- September 17, 2021- Virginia State University has announced that it will use an undisclosed financial gift from an anonymous donor to multiply the University's fundraising over the next six weeks. In an unprecedented move, VSU announced that all alumni, faculty, and staff gifts to the university will be doubled or tripled through a matching gift from an anonymous donor beginning Friday, September 17- October 28.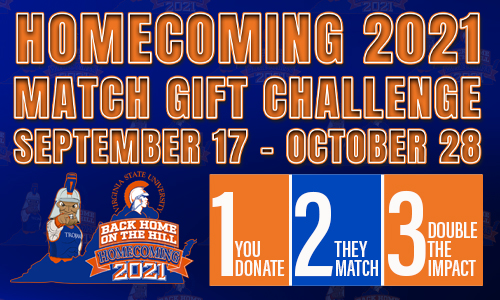 Any gift from a first-time alumni donor will be matched twice using the funds from the anonymous donor. For example, if a first-time donor gives $1,000, the University will match that amount twice for a total give of $3,000 gift to the institution. All other gifts from alumni, faculty, or staff will be matched dollar for dollar, doubling the gift amount designated to the fund of their choice during that period. 
"We believe in the power of giving back and this innovative challenge allows our alums, faculty and staff to have a larger impact on the institution through their matching gift," says Tonya Hall, Vice President of External Relations. "This is also a way to multiply the gift amount from the anonymous donor to have a greater impact on our VSU students." 
Alumni can also double their gifts by participating in the Decade Giving Challenge. The decade that gives the largest amount by Thursday, October 21, will be declared the winner, and their gift amount will be matched. Endowed gifts will also be matched as part of the Match Gift Challenge during the six-week challenge. For example, a donor can turn a $5,000 contribution to their endowment into $10,000. 
"Now is the perfect time to give whatever you can and invest in greater," says VSU President, Dr. Makola M. Abdullah. "And the biggest benefit to doing so now is that any amount given will multiply for the benefit our students and to ensure that greater happens here at Virginia State University. So, this is the right time and we are calling on all of our faculty, staff, and alumni to give back by investing in our students the same way that someone once invested in you." 
VSU alumni, faculty and staff can get more information and participate in the Matching Gift Challenge by Clicking Here.