Virginia State University's Board of Visitors extend President Abdullah's Contract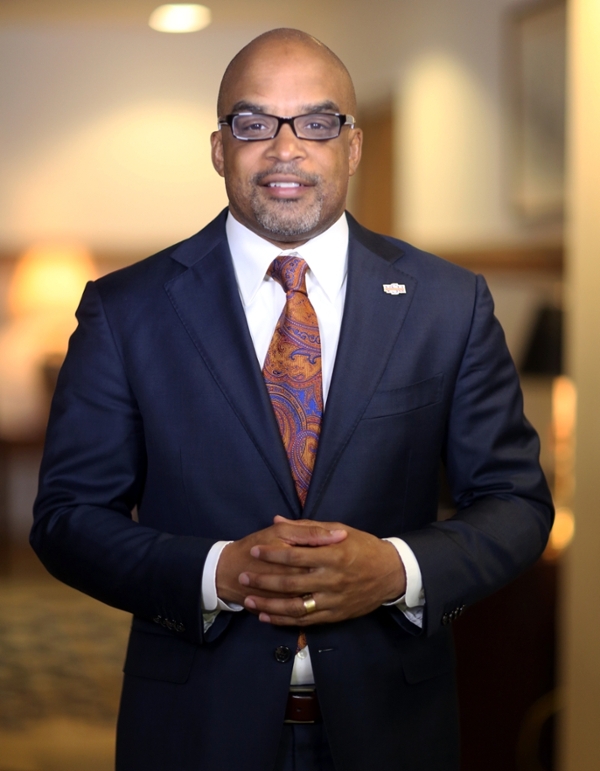 The Virginia State University (VSU) Board of Visitors voted to extend President Makola M. Abdullah's contract until June 30, 2024. Abdullah's contract was originally set to expire in June 2021.
Board of Visitors Rector Huron F. Winstead expressed that the Board appreciates how Abdullah and his administration are moving the University forward. "During the Board's performance review of President Abdullah, we expressed our satisfaction with his leadership over the past three years," said Rector Winstead.  "With President Abdullah's vision and passion, we are confident he will continuously elevate the University with stability and academic excellence."
Abdullah arrived at VSU in February 2016. Among some of the University's accomplishments under Abdullah's leadership include the following:
Granted full reaffirmation from the Southern Association of Colleges and Schools 

Commission on Colleges for 2018-2028 with the best possible review-no recommendations;

Received the Council for Advancement and Support of Education (CASE) District III Inclusion and Diversity Leadership Award;
Received approval of funding from the 2017-2018 General Assembly for a new $97 million academic building;
Received state appropriations from the 2018-2019 General Assembly of approximately $3.6 million in new funding and approximately $6 million for capital projects;
Maintained fiscal health of the University consistently with a balanced annual budget;
Received the University's first Governor's Award for Historic Preservation for the Summerseat project;
Received the Governor's Environmental Excellence Award for the Appomattox River Overlook project; 
Completed a $11.3 million renovation of Lockett Hall, Completed a $11.3 million renovation of Lockett Hall, a 24,000 square foot building featuring Science, Technology, Engineering and Mathematics (STEM) classrooms, teaching labs and offices. The new design supports interactive and collaborative learning and give access to advanced educational technology;
Opened a new Welcome Center in the VSU Multipurpose Center to enhance student recruitment;
Established the Academy for Faculty Enrichment, and developed Faculty Seed Grants to increase university research; and
Increased research expenditures to approximately $25 million for fiscal year 2018-2019.
"I want to thank the Virginia State University Board of Visitors for their continued support," Abdullah said. "I work with a team of dedicated administrators, faculty and staff who are committed in upholding a high standard of excellence by ensuring the University provides a transformative educational experience for our scholars. With the launching of the 2020-2025 bold and forward-thinking strategic plan, Preeminence with Purpose, we are poised to cultivate numerous opportunities of excellence for our students."
Abdullah earned his undergraduate degree from Howard University in civil engineering and his doctorate and master's degrees in civil engineering from Northwestern University. He is the youngest African American to receive a Ph.D. in engineering.
Dr. Abdullah, who was appointed as president on February 1, 2016, is a very active member with various organizations. In August of 2018, Dr. Abdullah was elected a member of the Board of Trustees for the Virginia Historical Society, which owns and operates the Virginia Museum of History & Culture. He also serves as a member of the executive committee for the Association of Public and Land-grant Universities, as a Board of Trustee member for the Southern Association of Colleges and Schools Commission on Colleges and the 5000 Role Models of Excellence. He is the chair for the Central Intercollegiate Athletic Association Board of Directors. In 2017, he was inducted into the Honda Campus All-Star Challenge Alumni Hall of Fame, and he was named the historically black college and university (HBCU) Male President of the Year by HBCU Digest, an online blog site which reports on the news of HBCUs.