Virginia State University Alumni, get ready for Homecoming 2021
"Back Home On the Hill!"

---
Invest In Your Home on the Hill! 
Make Your Gift Here
Monthly ACH Form
AMPLIFY YOUR GIFT WITH THE #VSUMATCHIT CHALLENGE!
Maximize your Homecoming Gift by participating in the #VSUMatchIt Giving Challenge. As you reminisce of your time on The Hill, recall the programs, people, and experiences that prepared you for your career and lifelong memories that call you back to campus every year and invest in VSU's future. VSU alumni, faculty, and staff are encouraged to make a gift to the fund of their choice by October 28, 2021. VSU alumni are encouraged to make a gift on behalf of the class decade you wish to represent by Thursday, October 21, 2021.
MULTIPLY YOUR CONTRIBUTION WITH THE FOLLOWING MATCH GIFT CHALLENGES:
FIRST TIME ALUMNI contributions will be MATCHED TWICE.
ALL contributions made by VSU ALUMNI will be MATCHED.
Endowment Scholarship Funds will be MATCHED.
ALL NEW MONTHLY CONTRIBUTIONS will be MATCHED. Matches for recurring gifts will end on June 30, 2022.
The decade that gives the largest amount by Thursday, October 21, 2021, will be declared the winner of the DECADE CHALLENGE, and that gifted amount will be MATCHED.
Match Gift FAQ
---
With a year's hiatus of Virginia State football and fellowship, we are excited to celebrate being back on the Hill with fellow Trojans during Homecoming. As we anticipate the week's festivities, we hope to see you all Thursday, October 21 through Saturday, October 23. Please view the 2021 Alumni Homecoming activities and additional information below: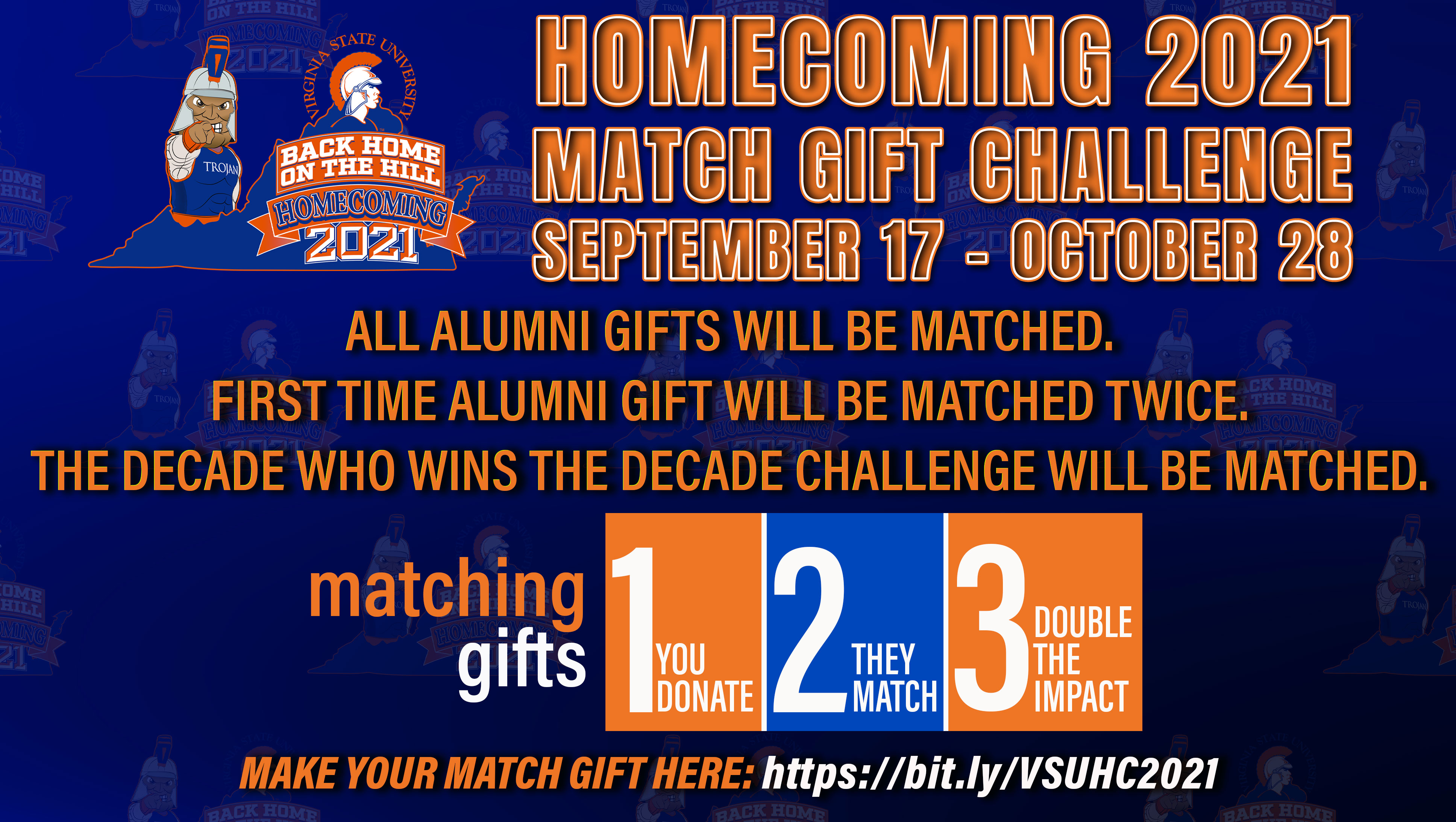 Homecoming Schedule 2021
Register Here
Thursday, October 21
Friday, October 22
Saturday, October 23
 

Life After Graduation Alumni Panel: Success, Networking and Your Brand

4pm - 6pm

Alumni will be invited to share their career and life experiences after graduation with current students. 

This panel discussion will be followed by Q&A and networking. 

Virginia Hall, Anderson Turner Auditorium

 

26th Anniversary,  President Golf Tournament

Presidential Scholars Golf Tournament 

8am

Dogwood Tace Golf Course,  Petersburg, VA

 

Alumni Day Party

Appomattox Overlook

2pm 

 

8th Annual VSUAA Pre-Homecoming Tailgate

Alumni House 

3pm

 

"LIVE" on the Hill

Virginia Hall, Front Lawn  

7pm 

 

Multipurpose Center

8pm

 

Homecoming Parade 

9am 

 

President's Tailgate

Gateway Dining and Event Center 

11:30am

 

VSU vs Lincoln University

2pm