Chair's Message
Thank you for your interest in the Department of Music at Virginia State University. At Virginia State University, we prepare students to exceed their capacity as artist and scholars in the 21st century music academy. Accredited by the National Association of Schools of Music (NASM) since 1954, our department offers a wide variety of opportunities for students to study with faculty who are respected artist, leaders, pedagogues, and scholars in the field of music. We currently offer several undergraduate degree programs in music and tremendous scholarship opportunities to match your participation regardless of your academic major. Come join one of the most comprehensive Department of Music programs in the country and see why Greater is Happening Here at Virginia State University.
Sincerely,
Samuel L. Rowley, Ed.D.
Chairman of the Department of Music and Director of Bands-Wind Activities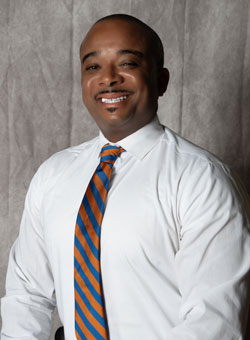 ---
About
The Virginia State University Department of Music is the oldest National Association of Schools of Music (NASM) accredited program at a Historically Black College and University in the Commonwealth of Virginia. It offers fully accredited undergraduate degree programs in music education, music performance (vocal and instrumental), and sound recording and technology.  The Department of Music is comprised of individuals who have achieved a high level of success in the fields of audio engineering, composition, conducting, music education, and performance. The Department of Music presents quality level events and masterclasses annually for the Virginia State University and Petersburg community. VSU alumni can be found around the country serving their communities as professional educators and performers. 
Department of Music Mission Statement
The mission of the Music unit is to maintain both a level of academic excellence established by the university and a level of artistic achievement competitive with national standards. The Unit will promote diverse musical experiences that cross cultural boundaries, the use of technology, interaction with the community served by the university, and contact with the larger musical community. Through these experiences, the students will gain an awareness their roles in the university, local, national and global communities and use that awareness to develop personal goals for future efforts and achievements.
Objectives of the Department
To provide students with solo performance opportunities in order to develop their performance skills to a high level and to provide the necessary performance opportunities so that they can perform effectively as ensemble players as well as soloists.
To offer curricula at various levels appropriate to the needs of the students according to national accreditation standards.
To provide a variety of courses to meet the needs of non-music majors so that they may broaden their professional backgrounds and become more well-rounded individuals.
To provide the University and community with professional services and expertise, thereby increasing their awareness and knowledge of the musical arts.
To provide a strong background for majors interested in graduate work in the performance areas of music, music education or related fields.