Ten Tigers Of Taekwondo and Self Defense
Dan Fritz Academy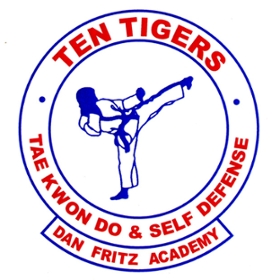 Ten Tigers Tae Kwon Do and Self Defense Training offers Boxing, Hapkido, Kickboxing, Muay Thai, Sanshou, Tae Kwon Do, Kung Fu for all staff, faculty and students.
Dr. Daniel C. Fritz is an expert in the martial arts holding 5 black belts in several different systems. He founded the Ten Tigers and started another branch of this martial arts organization on the VSU campus. Dr. Fritz has black belts in Shotokan Karate, Mudokwan Taekwon do, Jidokwan Taekwondo and holds Kukkiwon certifications. Dr. Fritz also holds a black belt in Hapikido and also is a master in Chinese Kung Fu.
Dr. Fritz is also diverse in boxing, Muay Tai (Tai –Boxing), Shan-Sou and competed in several major Karate, Kung Fu and Taekwondo campaigns winning gold, silver and bronze at the national and international level and still competes all over the world. Dr. Fritz has also trained security personnel, bodyguards and a few college campus police departments within the U.S. The Tigers have performed demonstrations and conducted self-defense seminars for sorority organizations here on campus and in the community. Dr. Fritz will always continue to serve Virginia State University students, faculty-staff and the administration with enthusiasm and passion.